One stop shop for all your print needs.
From concept to creation, we're here to provide you with the best quality service you've ever experienced in a print company! With our expertise and know-how, we'll help you save money, reduce stress, and focus on you're real priorities. We'll handle all your custom printing and promotional product needs, so you can focus on your business.
Custom Apparel
Customized apparel helps your staff and travel teams look professional! JHD offers screen print, embroidery, and hybrid printing on a wide range of casual and business apparel, such as t-shirts, outerwear, hats, polos/knits, dress shirts, active wear, workwear, high visibility, and sports team uniforms. Our nationwide network of suppliers gives us access to top tier brands from around the world!
Signs & Banners
Make a lasting impression! Custom signs and banners allow you to communicate with your customers and potential customers. Let our custom signage expertise help you create, promote, and extend your brand identity! From rigid signs in metal or plastic to yard signs, all types of banners, vinyl lettering, magnetic, dry erase, backlit, fabric, posters and more, we have got you covered!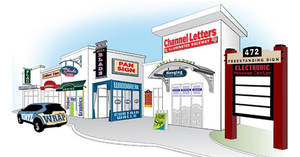 Commercial Signage
Commercial signage helps increase business as it is often the first impression of your company or business. JHD can help you increase business with high quality, professional custom signs and lighting that reflect your unique brand with eye-catching style. Our line up includes Monument Signs, Pylon Signs, Ornamental Post and Panel, Channel Letters, Cabinets, Marquee Signs, Real Estate Signs, LED Digital Panels, Box Signs, and more.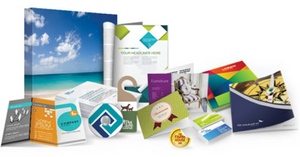 Printed Marketing Materials
Looking for custom marketing materials that pop and make your business stand out? JHD is your full source vendor for all types of printed marketing material, such as Business Cards, Letterhead, Envelopes, Postcards, Rack Cards, Greeting Cards, Booklets, Notepads, Brochures, Flyers, Door Hangers, Hang Tags, Calendars, and more. If you can dream it up, we can get it printed!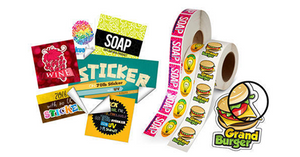 Stickers, Decals, & Labels
Are you looking for a popular, effective way to show off your brand? Transform any surface into an ad for your brand. We offer die cut, kiss cut, sheets, roll labels, weatherproof, clear, perforated, static cling, heavy duty floor decals, removable, dry erase, reflective, vinyl transfer and much more. No job is too big or small!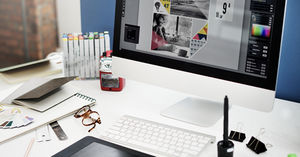 Graphic Design Services
JHD offers custom graphic design services for companies that are looking for help re-branding or just looking to modernize their marketing and advertising to build on their existing brand image. From logos to digital media, we have the team to get your marketing on track!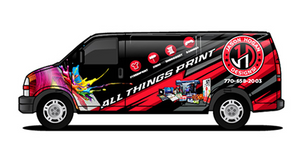 Wraps & Fleet Service
Make your fleet work for you with custom graphics and wraps. JHD offers custom vehicle graphics from basic door sets up to fully wrapped units. We have wrapped anything from golf carts up to full size semi-trailers! We offer fleet services to ensure a consistent brand image for your entire business. Take your mobile advertising to the next level!
Exhibits & Displays
JHD specializes in portable exhibits and displays that are high quality, light weight, and easy to use at affordable prices. From tension fabric displays, backdrops, table cloths, podiums, retractable banners stands, table top displays, step and repeat banners, custom outdoor tents, advertising flags, booth lighting, flooring, and more. Make your next event memorable for your customers!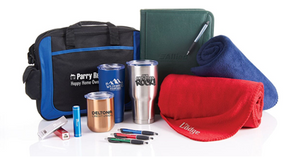 Promotional Products
Find the perfect custom printed gifts for business branding, giveaways, saying thanks, or awarding excellence! With our global network of suppliers, we can offer 1000's of different products with your logo on them, including top tier brands you know and recognize. We have the right products to fit your budget!
ABOUT JHD
Jason Hogan Designs was started in 1998 when Jason was only 16 years of age purely to service the needs of Jason's race team Hogan Motorsports. It was started with a 24 inch vinyl plotter which material was cut by color and layered together to create colored designs. As the years went by Jason started getting request to do work for others although the main focus was for the race team. Year by year Jason got to doing more and more outside customer work and quickly realized the business opportunity that was in front of him.

After a very successful stent of auto racing winning many races across the southeast Jason in 2006 toned down his driving and started focusing on building his Graphics Designs Company. At this time Jason started offering Logo, Business Design Packages and print products as well and full color printed graphics. Keeping up the technology at JHD is one of the main focuses Jason as put on his business wanting to supply the absolute best quality products in the industry.
Show Your Support.
From your local school team to your favorite band, everyone should own a good shirt to support their local community. On our new site, you will find a wide variety of products that you can order to support various individuals, groups, and organizations in our community. We are a company that loves good looking apparel at a price you can afford. All products are printed right here in Cleveland, Georgia. 
Browse our online catalog with local school and community fundraiser products. If you are looking to raise money for a good cause, contact us about setting up your page on the site. It is a hands-off process with all orders and shipping handled in-house by our team. If you have any questions, shoot us an email at info@jasonhogandesigns.com.